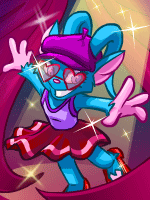 Prizes
1st : Item worth 25k - 30k.
Runner Up : Item worth 15k - 20k.

Rules
For TNO members only.

How it works:
This is a competition for all of you who enjoy customizing your pets, playing dress-ups or who just like to have fun! Each round a new theme will be announced and your job is to dress your pet in wearables that match the theme! Then all you need to do is take a screen capture of your pet and send it in to me! Neocash wearables AND neopoints wearables are both allowed. You can be as crazy and creative as you like...as long as you can tie is back to the theme!

Use the form below to send in your entry. Include your username and a description or explanation of your customisation and the name of the pet you dressed. Don't forget to send a link to your picture online and please ensure your picture is in a .jpg, .gif or .png format!

Remember that ALL types of wearables are allowed and yes, you can use Dress to Impress to create a fun outfit! However remember that the image you send in of your pet should not be too big!

Have an theme idea for this contest? PM Lena about it and if used you might get a special surprise!

[See past winners here] [Click here to vote]

Current Deadline: October 31st




What should you by styling yourself on this round?

This round you need to style yourself on the theme of 'Halloween Costumes'.

I *AM* Death!
Dress your pets in a Spooktacular Halloween Costume!

**Please note: Do not link straight to DTI! Please take a screencap!**



Let go customisers! Get out those Spyderweb Dresses, those spooky old wigs and all the creepy background you can!

Submit Your Entry!






Cast your vote! | Rules
Just select the one you like best and enter your Neopets username (your TNO account) at the bottom to vote! One vote per member, and please do not vote from multiple accounts. Plagiarism is not tolerated -- please notify us if you see any copied work here. Thanks!

The theme for this round was: Adventure Time!
_____









Marijke the Happiness Pixie
Marijke


Suddenly, you see something appear before your eyes. You look at it and see something yellowish and very, very happy...
Tinqerbell says:


"I decided to make a little font making tutorial here, to which I'll add all the tips and tricks I can think of that are useful when making a Neoboard font..."


(Read more...)